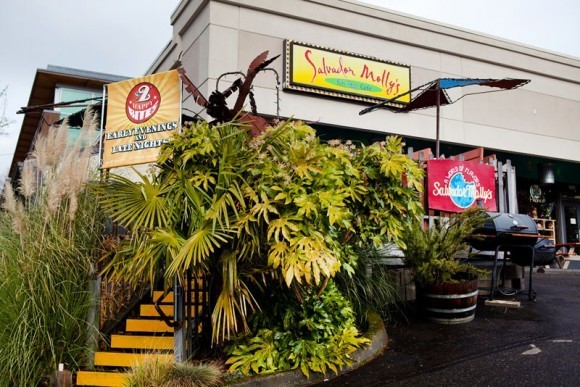 An eclectic mix of global flavors served with joy amid artifacts from our world travels…
Street food from global hotspots, a great bar & happy people keep this casual, quirky neighborhood restaurant hoppin' to a world beat for lunch and dinner 7 days a week. Eat the Great Balls of Fire and get your picture in our Hall of Flame.
Tropical colors, vibrant flavors from places like Jamaica, Hawaii, Africa, Thailand and New Orleans and great drinks keep the whole family coming back for more.
For over 20 years we've been discovering the world — over and over again.
Hours
Sunday – Thursday

11:30 a.m. – 9:00 p.m.

Friday and Saturday

11:30 a.m. – 10:00 p.m.

Daily Happy Bite Hours

3:00 p.m. – 6:00 p.m.

and last hour before closing
A great impress a date place. The jerk chicken is fabulous.
Christopher Hansen
OMG food was delicious. A variety of different cultural meals with a spicy twist.
Joyce Bostain
Absolutely wonderful… Jerk chicken, reggae playlist..Bread pudding..Molly squeeze with Bacardi..Just awesome…
Theresa Lambert
OMG the Great Balls of Fire! Seriously, even if you don't order them, the rest of the menu is killer, including the drinks!
Meredith G.
Always great and amazing food, staff is also very accommodating can't wait to go back again!!
Joy W.
Love this place! Quirky atmosphere, delicious international dishes, Great Balls of Fire!
Stephen Carter

HOURS
Sunday – Thursday
11:30 a.m. – 9:00 p.m.
Friday – Saturday
11:30 a.m. – 10:00 p.m.
Daily Happy Bite Hours
3:00 p.m. – 6:00 p.m.
and last hour before closing
FIND US
Address
1523 SW Sunset Blvd.
Portland, OR
Phone
(503) 293-1790