African Peanut Sauce from Windhoek, Namibia
Rick Sadle updates us from Windhoek, Namibia.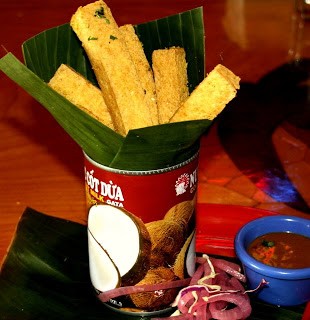 The days, weeks and months spent traveling are some of the best of our lives. When travel becomes life changing, when we incorporate something we experienced into our life back at home. Food of course is a great way to do that.
My trip to Southern Africa was almost a year ago, but I'm re-living a bit of it this week through a wonderful African peanut sauce. We were looking for the perfect accompaniment for our new Bali Fry dish at Salvador Molly's. I remembered the sauce a street vendor in Windhoek, Namibia served with his Zebra skewers. It's not like the Thai Peanut Sauce we often find served with Thai Chicken Satay which uses a lot of coconut milk.
Our wandering chef Scott Moritz played around with some recipes he found on line and came up with the great re-creation. It's perfect for the Bali Fry and I'm trying a little with every meal. So far, it has enlivened my morning eggs, baked sweet potato fries, a grilled boneless/skinless chicken breast, BBQ Pork Chop and I'm just getting started. I have a new condiment in my refrigerator and every time I use it, I remember those amazing days and nights on the opposite side of the world.
Try it yourself.
African Peanut Sauce
Ingredients
Yellow onion – chopped 1 medium
Ripe tomato – chopped 1 large
Peanut Butter 8 oz
Ginger – chopped 2 oz
Garlic – minced 1 ½ Tbl
Kosher salt 2 Tbl
Pepper 1 Tbl
Vegetable oil ¼ cup
Cayenne pepper ½ Tsp
Directions
Combine all in food processor. Blend until smooth.