Rick Sadle updates us from Alaska.
I had a great time in Alaska in June of this year. I must say that I didn't get many food inspirations there, except to be reminded how wonderful almost any fish is when it's cooked and eaten within hours of being caught. But I did notice a funny looking knife that seemed to be the staple tool in every kitchen I visited. Northern Alaskan natives invented the Ulu for filleting fish, but the modern version is widely used for many kitchen jobs.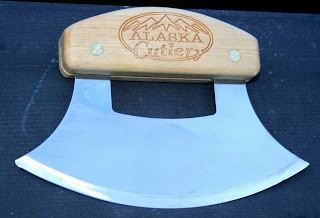 They're sharp and I've been using mine daily since I brought it home. It's especially genius for chopping jobs because the concave cutting bowl they sell with it is curved just like the knife so it's efficient and the bowl keeps the chopped food from flying all over the kitchen. Alaskan cooks use it for everything from filleting fish to slicing vegetables, cheeses, pizza, you name it.

You can find them from a lot of places, as you'll see if you "Google" Ulu but here's where I got mine. You'll see that they're not expensive. If you pick one up, you'll find it very useful.