Pineapple, Mangos, and Massage in in Prachuap, Thailand
Barbara and Hal update us from Prachuap, Thailand.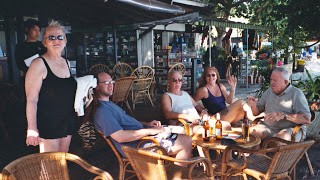 A little overcast today, but still really nice. Yes, the baht was a different rate when we came over last, but if you check exchange rates the US dollar is sinking against just about any other currency.
We had a long walk up the beach yesterday to the fishing village, then today we walked through town to the airbase. I wish I'd brought my walking shoes. Luckily we found a Thai massage for one-hundred baht for an hour, which is excellent, so we could actually go in the morning and return for an evening massage and still be ahead money-wise. They were so nice today and brought us that wonderful thai pineapple, bananas, and mango.
Prachuap has a nice food market that has all of these stalls, you walk around checking out what they're grilling, stir-frying or stewing, then for approximately twenty baht order it they bring to you. Definitely a major taste treat and with so few foreigners (and those like Hal that speak Thai) we have a super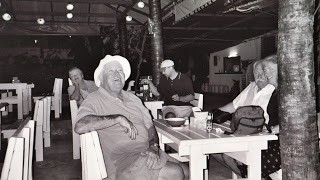 time talking with folks. I think we'll rent a scooter and bike to the Burmese border where there is a market. It's by the mountains and they say there are many wonderful flowers.
On the up side, I've managed not be attacked by the monkeys yet this trip. Hal keeps coming up with great monkey revenge ideas, but I don't want them to jump me again! Weather is still warm, but not too hot. We'll roast when we have to head back to Bangkok!