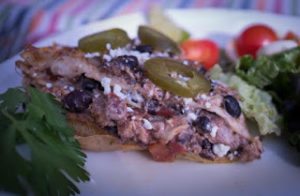 Serves 6-8
Assemble the night or morning before, pop in the oven when you get home from work!
Layer into a buttered 9″ glass pie plate (glass is best, but any type will work:
6 each 8″ tortillas (TJ's has nice mixed corn & flour ones, but use what you have, even GF tortillas)
8 oz cotija cheese, crumbled
6 oz pico de gallo type salsa (not saucy)
6 oz cooked pinto or black beans
 6 oz crumbled seitan, roasted tofu crumbles, shredded chicken or ground beef (cooked!)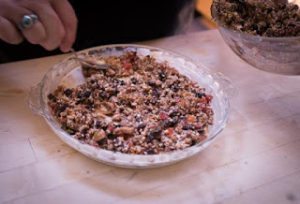 Mix everything except the tortillas together.
Place one tortilla on the buttered bottom of the pie pan.
Spread a thin layer of the cheese mix on the tortilla.
Repeat in thin layers, ending with the cheese mix.
Cover tightly and either refrigerate, freeze, or bake.
If baking from frozen, add 30-45 minutes to baking time.
If baking from refrigerated, remove strata from 'fridge, preheat oven to 325F.
Bake, covered, 1 – 1 1/4 hours on bottom shelf of oven, until it's 160F in center.
Remove and let stand 10-15 minutes before slicing and serving.
Bonus points: sliced fresh avocado, minced cilantro, pickled jalapenos, sour cream, minced green and white onions, more crumbled cotija cheese – all delicious additions to serve alongside.
This is delicious at room temperature, as well, making it a great brunch addition.
Serve with a nice crisp green salad and a dark Mexican beer, and don't forget to invite your friends!