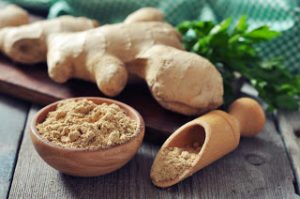 Serves 2
The night before, or morning of, slice 1 lb. chicken breast lengthwise into 1/2″ thick strips.
Place into tight sealing bag, jar or tub with tight fitting lid and space for the following:
1 Tbsp fresh minced garlic
3 Tbsps fresh grated ginger root (use microplate or smallest grater holes, discard excess fibers)
2 Tbsps fresh lemon juice (and just drop the squeezed lemon right in there, rind and all)
2 Tbsps minced crystallized ginger
2 Tbsps Tamari sauce
Shake well, store on bottom shelf or your fridge, and go accomplish things and stuff.
Hit the market on your lunch break and grab what's fresh and green – any type of choy, young carrots, snow or sugar peas, green beans, spring onions…
Home again, take the chicken out of the fridge, give it a good shake, and take the dog for a walk.
Once you're washed up and ready to cook, pop some rice in your steamer (we are in love with brown basmati, lately) and heat a skillet or wok to medium high.
Remove chicken pieces from marinade and pat dry. Add a teaspoon of vegetable oil to the pan and sear chicken slices.
Remove to a plate, then add in your market veggies, all sliced and washed and well-drained.
Stir fry your veg for about 3 minutes, then add the chicken slices and reserved marinade (discard lemon rind). Bring to a boil, then reduce heat to a bare simmer until your rice is ready.
Serve over hot rice.
Extra sparkle – add some sliced pickled ginger on the side of your bowl, and scoop slices up as you eat.
This recipe is great with tofu, too, although better to bake the tofu in the marinade and stir fry the veggies.
Get your sparkle on!