Silky Polynesian Roast Peppers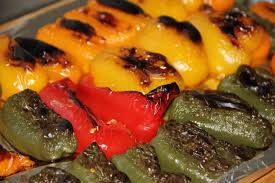 This recipe can easily be halved, but it's designed to provide you with enough to freeze…you'll enjoy the summer flavor for months to come!
10 lbs mixed colors of bell pepper – red, yellow and orange are prettiest, green bell peppers will make your end result less sweet overall, so include them if you like. Chocolate and purple colors tend to look muddy after cooking. If you like some heat, include a few thick-fleshed hot peppers such as cherry bombs or jalapenos. Cut peppers in quarters and remove the seeds, stems, and cores.
3 Tbsps dark sesame oil
3 Tbsps vegetable oil
1 cup soy sauce
3 cloves minced garlic
1 Tbsp ground ginger
1 Tbsp smoked paprika (or 1 tsp natural liquid smoke)
1-3 Tbsps raw cane sugar (to your taste)
Preheat oven to 450F
In your largest roasting pan, toss peppers with sesame oil, vegetable oil, soy sauce, garlic, ginger, paprika and cane sugar.
Roast, uncovered, stirring every 15 minutes, for 45 minutes.
Cover tightly with foil and roast an additional 20 minutes.
Remove from oven, carefully remove foil and cool peppers in their liquid until cool enough to handle.
Running your (clean!) hands through the mix, slip the skins off.
Pour peppers and liquid into a shallow bowl and refrigerate until thoroughly chilled.
Divide into ziplock freezer bags and freeze, or store in the 'fridge up to 7 days.
Use Them: As-is over a fresh bowl of sticky rice, mixed into your macaroni salad, topping a grilled sweet chile & chicken pizza. Pair with grilled pineapple and add Luau flavor to your next turkey, chicken or baked tofu sandwich. Mix into plain greek yogurt for dipping Hawaiian sweet potato chips.