Sweet Onion and Delicata Squash Pakora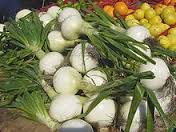 2 cups chickpea flour (garbanzo bean flour – available in any ethnic foods store, heath foods store, and even the bulk health foods aisle of the local Freddie's)
3/4 cup rice flour (or cornstarch)
1 tsp baking powder
1 tsp ground cumin
1/2 tsp salt
1 tsp – 2 Tbsp minced fresh chile pepper (go by your tolerance – 1 tsp. seeded jalapeno for mild chile flavor, 2 Tbsp whole habaneros for hothot)
Onion, sliced into petals (cut onion through top center, cut into wedges, separate layers)
Delicata squash cut into slices, rings, or wedges, but no more than 1/2″ thick. Do not remove seeds. Peeling optional.
To make the batter, whisk together chickpea flour, rice flour, baking power, cumin, salt and chile pepper. Gradually whisk in 2 cups cold water. You are looking for a smooth, relatively thin batter, a bit thinner than pancake batter.
Heat vegetable oil 3″ deep in a heavy pan with sides at least 3 times higher than your oil level (3″ oil + 9″ high sides for safety!). Heat to 350F, or until a drop of batter floats and turns golden brown within 2 minutes.
Have onions and squash ready and dip one piece at a time into batter, hold for a moment to allow excess to drip off, then gently lower into oil with tongs. Continue without crowding the pan.
If oil is the right temperature, the battered piece should not stick to the bottom, but float gradually upwards as it browns.
Use a wire skimmer to lift browned pieces onto paper towels or opened brown paper bags to absorb oil, and lightly salt the pieces as soon as they're on the paper.
You may hold the pakoras in a 300F oven for about 1/2 hour while you finish the lot, or serve immediately with your favorite raita or chutney.
Enjoy!