Quick Weeknight Korean Marinade
*The key to pulling things together fast is advance prep.*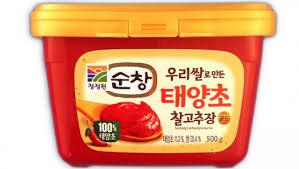 A pound of any of the following:
Peeled and deveined shrimp, 21-25 size at least
Dry scallops, if very large cut in half-moons
Chicken thigh meat, boneless, skinless, sliced thin
Chicken breast, boneless, skinless, sliced thin
Firm vegetables – eggplant, zucchini, onions, green beans, small tomatoes…
Extra-Firm tofu
Marinade:   2 Tbsp Korean chile paste, or Gochujang
1 Tbsp brown sugar
1 Tbsp fresh minced ginger
1 Tbsp fresh minced garlic
1 Tbsp dark sesame oil
1 green onion, sliced
1. Slice or cube your protein, bag it, refrigerate it. Top with a ziplock bag of ice if doing seafood or if the bottom of your fridge isn't below 38F. (up to 3 days ahead)
2. Put marinade ingredients in a jar, shake well and refrigerate up to 3 days.
3. Shake up in a glass jar with a tight lid. If desired, a handful of mixed mint, basil and cilantro is a bright addition just before cooking.
4. The night before, skewer your food, place in a shallow, wide pan in a single layer, cover tightly and return to the 'fridge. When you get home the next evening, pull out the skewers and the marinade. Shake up the magic, pour over your skewers, making sure to coat them somewhat evenly, then go relax, let the dog out, preheat your grill (or grill pan!).
5. When ready to eat, oil the grill well and grill your skewers to desired doneness. This of course will vary depending on what you're cooking! Put cooked skewers on a platter of steamed rice, an herbed rice noodle salad, or a nice crisp green salad and serve them to grateful family and friends. A little kim chee would be an adventurous, tasty side.