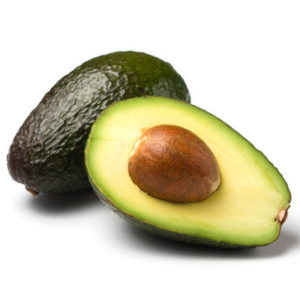 Serves 4
1lb flatiron steak*, cut across the grain into thin strips, marinated in
3 cloves crushed garlic
1-3 shakes hot pepper sauce
1 Tbsp vegetable oil
2 large, ripe Haas avocados – if ripe, the stem will fall out easily and the dimple under it should be tan, not green. If it's dark brown, it's overripe.
2 vine-ripe tomatoes, sliced into wedges
1 large English cucumber, sliced thin
1 small carrot, scraped and sliced thin
1 small red onion, peeled and sliced thin
1 bunch kale, sliced into thin ribbons, rubbed with 1 Tbsp kosher salt**, then well-washed and dried
1 cup cooked, cold quinoa (white, red, black, or mixed colors)
Approx. 1 cup of your favorite vinaigrette
1 head butter lettuce, leaves separated, washed and dried
To assemble: Heat a nonstick, wide frying pan over medium-high heat.
Drain marinade  from meat, shake dry, and sear meat in frying pan to desired degree of doneness (flatiron is a great cut for medium-medium well done steak). Reserve.
In a large bowl, toss all remaining ingredients with half of vinaigrette.
Line a platter with the butter lettuce leaves and pour the tossed salad over.
Lay the steak strips on top and serve the remaining dressing on the side.
Delicious, quick, healthy eating!
*Feel free to substitute grilled turkey breast, some smoky tempeh slices, or shrimp!
**In a separate bowl, get your hands in there and RUB the kosher salt into the strips of kale. This will soften it without cooking it, leaving it both crunchy and tender. Be sure to WASH the salt OFF, with several changes of fresh water. TASTE IT to be sure you removed most of the salt.