Sesame-Fried Ripe Tomatoes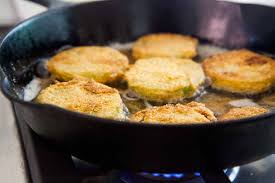 Serves 2 as a light meal, or 3-4 as an appetizer.
2 large tomatoes, approx. 1 lb each, firm but ripe, any color
1 lb rice flour or cornstarch
3 tbsps white sesame seeds
1 tbsp kosher salt
1 tsp ground white pepper
2 eggs, whipped
6-8 oz panko (Japanese style shredded breadcrumbs)
Vegetable oil for frying
To serve: (all optional)
Lemon wedges
Hoisin sauce
Kewpie mayo (available in any Asian grocery)
Sushi gari ginger (thinly sliced pink pickled ginger usually served with sushi)
Wasabi paste
Slice tomatoes thickly (1/2″) and pat dry.
Mix rice flour with sesame seeds, pepper and salt.
Place seasoned rice flour in a shallow pie pan, eggs in an 2nd pan, and the panko in a 3rd pie pan.
Heat oil 1/2″ deep in a heavy skillet over medium heat.
Dip tomatoes slices first in flour, then egg, then gently press into panko.
Set crusted tomatoes aside on a rack or fresh paper towels for a few minutes to a half hour. This helps the coating to adhere better.
When oil is hot  (325f) gently slide tomatoes into hot oil, one at a time. Do NOT not over crowd.
Cook 3-4 slices at a time, turning once,  for a total cook time of about 3 minutes.
Set cooked slices briefly on paper towels or brown paper to absorb some of the oil. The sesame seeds in the coating should be nicely toasted.
Serve immediately,  with any of the above condiments, for an Asian twist on our favorite southern fried green tomatoes.
*Make it gluten free and/or  vegan by using GF breadcrumbs, egg substitute.