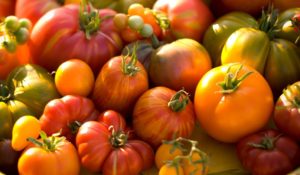 If you're like us, no meal is complete without some fresh bread (or cornbread, or tortillas, or…)
You can set the tomatoes to drain in your 'fridge all day, then make the bread in 5 minutes when you get home. The smell of this baking will send your family running for the table!
Oil for oiling the pan
2 tsp cornmeal
1.5 cups peeled, diced very ripe tomatoes (go crazy with color!)
1 tsp granulated sugar
1.5 tsps kosher or sea salt (do not use iodized table salt for this recipe)
2.5 cups all purpose flour
1 tsp. baking powder
1 tsp. dried oregano
~ 1/3 cup buttermilk (*see below*)
2 eggs
¼ cup virgin or extra virgin olive oil
2 cloves fresh garlic, mashed
½ cup minced fresh basil (if you're not fond of basil, substitute a 50/50 mix of flat Italian parsley and baby spinach leaves, minced)
Toss tomatoes with salt and sugar, place into strainer set above a glass or plastic bowl. Leave in fridge to drain 4-12 hours, lightly covered. Reserve juice!
When ready to bake, preheat oven to 375f. Lightly oil an 8" x 8" or 9" x 9" square baking pan. Dust with the cornmeal and shake out excess.
Whisk together in large bowl the flour, baking powder and oregano.
In a separate bowl, whisk together the buttermilk, eggs, olive oil, garlic, basil and the reserved tomato juices.
Make a well in the center of the flour mixture and slowly pour in ¾ of the liquids.
Stir 3 times, then add the diced tomatoes and fold in. If mixture seems too dry, add a bit more of the mixed liquids, but try not to over mix.
Bake approximately 35-50 minutes, until pick inserted in the center comes out clean.
Cool in pan for 15 minutes, then slice and serve!
Great with a slice of fresh mozzarella on top, or dipped in some peppery, freshly pressed olive oil, or made into pizza bread by broiling with more tomato sauce and cheese!