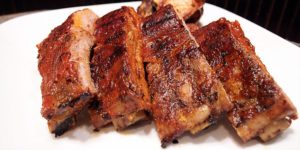 Serves 4-6
*You can use boneless ribs, but we love getting the richness the bones give to the sauce.*
2-3 lbs. pork ribs, boneless or St. Louis cut (baby backs are too lean for this recipe)
1-3 Tbsps. chipotle puree (from a can of chipotles en adobo, available in any grocery store in the Hispanic foods section)
2 Tbsps. kosher salt
2 whole cloves
1 cinnamon stick
Peel from 1 orange (just the orange part, the zest, no white, or pith – it makes everything bitter)
1 large sweet onion
4 cups unfiltered, unsweetened apple cider
*This tastes best when the ribs are browned first in a small amount of vegetable oil, but you can also just dump it all in the Crock-Pot, and it will still be delicious.
If browning the ribs, pat dry with paper towels and brown all sides on a heavy skillet with a small amount of oil. Drain well before adding to the pot.
Peel and quarter the onion and place on the bottom of the pot.
Add the ribs.
Mix the cider with the chipotle puree and salt, pour over the ribs and onion.
Add the cloves, cinnamon stick and orange peel (stick the cloves in a part of the orange peel to make them easier to find, later).
Set your Crock-Pot on high for 6 hours. Go take a nice little hike.
Check after 4 hours to be sure there's enough liquid. Add a bit of water or cider if it looks dry.
When done, meat will be falling-off the bone tender, lightly sweet and as spicy as you like. You can serve it immediately on rice, slider buns, or wrapped in tortillas, or you can shred the meat with forks, cool, pack and freeze for incredibly easy, incredibly tasty and quick lunches and dinners loaded with fall flavor!