Baked Plantains and Bacon Bites
Serves 12 as an appetizer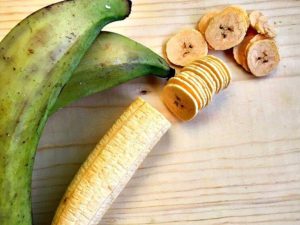 3 ripe plantains – look for deep golden color splotched with black. If you can only buy them green, ripen in a brown paper bag with an apple for 2-4 days.
6 strips of good, uncured bacon
Pure maple syrup
Plain Greek yogurt
Fresh ground black pepper
Preheat oven to 400F.
While oven is heating, lay strips of bacon, cut in half, on a non-stick or lined cookie sheet. Bake 2-3 minutes, just until soft and limp. Remove from oven, pat dry.
While bacon is cooking, peel and slice plantains into thick ovals, approx. ½" thick.
Lay down a slice of soft bacon, fold around slice of ripe plantain and secure with a toothpick. Set on cookie sheet so pieces aren't touching. Bake 10-14 minutes, or until plantain is golden and bacon is crisp.
Transfer immediately to a warm serving plate, drizzle with maple syrup and sprinkle with black pepper. Serve immediately with the Greek yogurt for dipping. (BBQ sauce is also amazing as a dip!)
Plantain party!