Anne Parker updates us from Vietnam.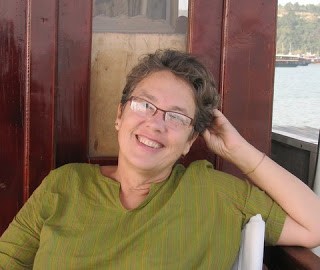 I have been living in Hoi An, Vietnam for over a year now – wow time really does fly by! I had been living in Portland for over twenty years when my husband died and my life changed! I took a three month leave of absence and came to Thailand, Laos, Cambodia, and then Vietnam. It was the people that I met in this country that made me want to come back. So I sold everything I owned and here I am! No regrets! This place is full of life, laughter, wonderful people and incredible food! I do not plan on moving any time soon!
I have a blog too and it can be found through the links section on this page.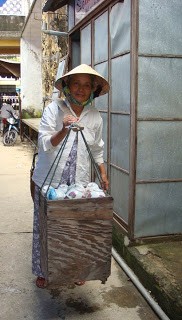 Right now, Dau Hu is my most favorite thing to eat! I eat two bowls a day when the dau hu woman comes to the market. Dau hu is a silky tofu served with a ginger syrup, its served hot. She has a small pot with hot coals under it that keeps the syrup warm and she carries the whole thing on her shoulders. I have tried dau hu in Hanoi and in Ha Giang, so far the best is right here in my town of Hoi An.